Best Apple Watch deals right now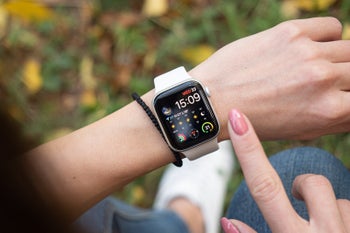 The
Apple Watch
is undoubtedly one of the best wearables out there, especially after
Apple brought sleep tracking
with the latest watchOS 7 beta software update, and recently introduced two new models - the Apple Watch Series 6 and the Watch SE. It's an amazing piece of engineering as you can see for yourself if you check out our full
Apple Watch Series 5 Review
. Now, if you're already sold on the idea of owning an Apple Watch or you want to upgrade, but you don't know where to start from, here are the best Apple Watch deals right now.
Jump to section

Best Apple Watch Series 6 and Watch SE deals
Apple spiced up things in the wearable district by introducing not one but two new models, and also in different price segments. The Apple Watch Series 6 is undoubtedly the high-tier device most people would aim for, but the Watch SE can offer an amazing value to those on a budget or upgrading from much older generations. If you hope to get amazing deals days after the official launch, you're in for a nasty surprise - there are none. Nevertheless, carriers and big retailers do offer some price promos, and package deals.
Apple Watch Series 6 and Watch SE prices and deals on T-Mobile
Apple Watch S6: $20.84/month ($0 down, Full Retail Price: $499.99)
Apple Watch SE: $13.75/month ($0 down, Full Retail Price: $329.99)
$10/month for unlimited 4G data on an Apple Watch in the new Family Setup plan.
T-Mobile's prices
without any discounts or plan subscriptions for the new watches match those of Apple - the Apple Watch Series 6 is $399 for the GPS model, and $499 for the Cellular version. The Apple Watch SE starts at $279 for the GPS version, and $329 for the Cellular one. Meanwhile, there's a new Family Setup option baked in watchOS 7, which lets family members who do not carry an iPhone to still have the benefits of an Apple Watch. There's a potential benefit for the users here and T-Mobile knows it, as the carrier is offering a new plan to take advantage of the Family Setup option. Each user with the timepiece gets unlimited talk, text and 4G LTE data for an introductory offer of $10/month (with $5 AutoPay and $10 voice line discount).
Apple Watch Series 6 and Watch SE prices and deals on Verizon
The Apple Watch Series 6 will also be available from
Verizon
on September 18th. The 40mm LTE model starts at $499.99 (or 24 monthly payments of $20.83). The 44 mm LTE model starts at $529.99 (or $22.08 a month over 24 months). The cheaper Apple Watch SE also launches on September 18th with the 40mm LTE model priced at $329.99 ($13.74 per month over 24 months). The 44mm LTE Apple Watch SE retails for $359.99 ($14.99 per month over 24 months).
You can take $100 off the price of the Apple Watch by trading-in an old smartwatch. Buy any iPhone on Device Payment and take $100 off the price of select Apple Watch models using the Device Payment Plan. You can stack both offers for a total $200 savings on an Apple Watch.
Best Buy Apple Watch 6 deal

If you decide to order the Watch 6 from Best Buy you'll get four free months of Apple Music and News+ subscriptions, and also the whopping six months for Apple's new Fitness+ curated service to help you stay fit during the coming Fall. That's $140 in service subscriptions as each of those is $9.99/month, and if you count the new $29.95 Apple One Premier bundle as there are more services in it.
Best Apple Watch Series 5 deals
If you really want the Series 5 variety, the cheapest option starts at $399 at BestBuy and Amazon. There are, however, rare cases when you can snatch one for less. There's a renewed Apple Watch Series 5 (GPS, 44MM) on sale at Amazon at the moment and you save more than $70. It works and looks like new and is backed by the 90-day Amazon Renewed Guarantee.
Alternatively, you can opt for that $ 399 model if you don't mind the smaller form-factor. It's 40mm GPS only but it is technically brand new and will give you that full warranty peace of mind. You can either go for the classic version or choose the Apple Watch Nike Series 5 sport-oriented edition.
There's a great option if you don't mind buying with a plan and want to make someone happy (beside yourself, obviously). If you purchase two eligible Apple Watches both on a qualifying installment agreement you can get up to $200 in bill credits towards the second eligible Apple Watch.
Best Apple Watch Series 3 deals
You can save big without sacrificing much by opting for a Series 3 watch. It's the budget choice that will let you stay in the ecosystem for half the price of an Apple Watch Series 5. There are compromises, of course, but nothing major. Always on is missing on the Watch 3, and the Watch 5 has a faster processor and slightly better battery life but all in all, the user experience is not that different between the two models. Workout tracking is great on both watches, heart-rate alerts and that seamless integration with you iPhone are also present and working like a charm on both devices. You can get the Apple Watch Series 3 on Amazon for $169 right now.


Best Apple Watch accessories deals
Let's say you've already bought an Apple Watch and now want to treat it with some accessories. You're in luck because there are some really sweet deals out there. The Nomad -
Wireless Charging
Pad for iPhone and Apple Watch is now on sale at BestBuy and you can save $42 and get it for $97.99. It's a perfect addition to your wireless charging arsenal.
There are other charging options for your new Apple Watch like this Belkin PowerHouse Charging Dock which is 20% off at BestBuy. The built-in VersaCase lighting connector adjusts to multiple positions to fit most cases, and the dual integrated chargers let you mount two devices simultaneously
If you wanna protect your new and precious gadget, there's a huge clearance on BestBuy. You can get a waterproof case for $39.99 (down from $79.99). Its polycarbonate construction protects your device from drop damage from up to 2m falls without impeding your watch's functionality, and the flexible silicone band is comfortable yet durable. This Catalyst sport case is Waterproof up to 330 feet for added protection.